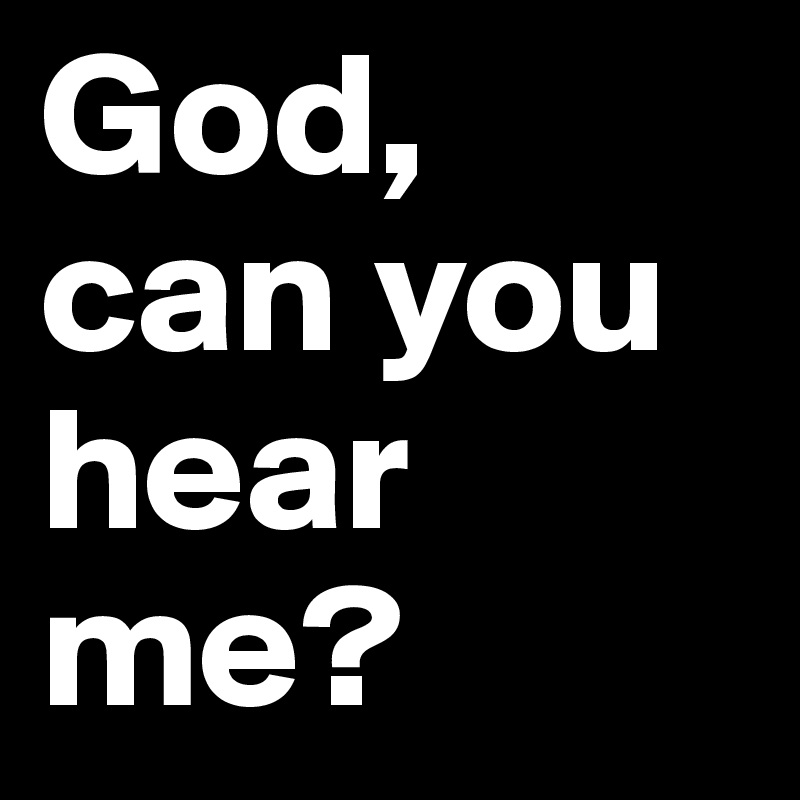 by Rob Lundberg
You don't have to be a Christian very long to wonder or even ask yourself if God hears your prayers. Just this week, I was counseling a family who has a child that has declared themselves to be an "atheist" (so-called) that brought this issue up as a reason not to believe in God. But this is an experiential objection which runs amiss because of some other important issues in our understanding of God and His nature. That is why I thought it was important to write this posting. 

At the same time, there are many in our pews today living in doubt over this issue of whether God hears us when we pray, which compounds their view of whether or not Christianity is relevant for their lives in today's culture. Without chasing a rabbit here, this is why the church, more than ever, needs to preach apologetically showing the relevancy of a relationship with God and walking in the Christian faith in a confused post-Christian culture.
Why do I believe this way.  It is because when I ask fellow Christians who God is and what He is like, I get answers on how the God they believe in is totally different from the God we find in the Scriptures.  Bearing this in mind, if we do not understand the nature of God and what He is like, then the chances are that our view of God, prayer and the reasons why we should pray will be out of sorts as well.
So in addressing this question, I would like to approach it from the perspective Jesus' model prayer found in Luke's gospel in Luke 11:2-4:
And He said to them, "When you pray, say: 'Father, hallowed be Your name. Your kingdom come. Give us each day our daily bread. And forgive us our sins, For we ourselves also forgive everyone who is indebted to us. And lead us not into temptation.'"
Let's take a look at the words of Jesus and see what we can glean from prayer and the nature of God.
The first thing is that we need to recognize from Jesus' instruction on prayer is the nature of God.  Many start with the fact that God is loving and because He is loving He should answer my prayers. While it is true that God is loving (John 3:16; Jeremiah 31:3), Jesus begins by praising the Father (God) and recognizing His holiness. Jesus' desire, which should be ours as well, is for God's will to be accomplished first, even before asking for anything for Himself. We need to understand that while God is loving, His holiness is of utmost importance; and His love reflects His holiness.
The Bible tells us that we must put God first if we want our prayers to be heard (Ezekiel 14:3, John 15:7). We're called to abide in God first and put aside all other idols in our lives before we ask God for something.
Second is we need to recognize our desperate need for forgiveness.   The final part of Jesus' prayer is centered entirely on the truth about each of us as believers. Jesus recognizes our need for forgiveness and our need to forgive others. More importantly, Jesus recognizes our natural fallen tendency to battle with and slip into sin and forget our need for God's help in this area. Scripture tells us that we must be honest about our sinful condition if we want our prayers to be heard (Isaiah 59:1-2).
Honest confession is often missing from our conversations with God, but Jesus (the only sinless Man who ever lived) did not deny our need for forgiveness. If Jesus is modeling this for us, it is a given that it must be important to God. Our need to examine our fallen nature and our battle with the fleshly nature is important because it helps us see God for who he really is (especially when compared to frail human beings like ourselves).
Lastly we need to recognize the nature of our material needs.  In the middle of the Lord's prayer, Jesus submits a simple request: "give us this day our daily bread". Contrary to some theological positions in the church, we see from Jesus that this is simple, immediate, and humble. The request is focused more on our needs rather than our wants, and it asks for no more than what is required in the "here and now."[1] After all today is all we are allotted, Right?  But notice that prayer is not just about asking God to meet our needs.  Jesus asks for more than His own need; His prayer is concerned with the needs of others (Proverbs 21:13). The Bible tells us that we must be concerned with others if we want our prayers to be heard.
But even when we do pray the way Jesus taught us to pray, some may sometimes feel like God hasn't answered their prayers. That is because most of us think the only acceptable answer to prayer is "yes." Again this is due to our understanding on who God is and what He is like.
There are some prayers God always grants. If you are a follower of Christ, you can have confidence that God will always say "yes" to the following requests:
Requests for Wisdom:  Wisdom is the outworking of knowing and living out the truth.  James tells us, "But if any of you lacks wisdom, let him ask of God, who gives to all generously and without reproach, and it will be given to him." (James 1:5)
Requests for Forgiveness:  Everyone of us falls short of the glory of God (Roman 3:23) and in need of salvation.  The Christian life is also a life of repentance and that is why I am thankful for this promise.  "If we confess our sins, He is faithful and righteous to forgive us our sins and to cleanse us from all unrighteousness." (1 John 1:9)
Requests for Salvation:  "…for 'whoever will call on the name of the Lord will be saved.'" (Romans 10:13)
While God says "yes" to these kinds of requests, He often says "no" or "not yet" to other kinds of requests. It's not because He doesn't love you or isn't listening. Remember, God's timetable in eternity is different than our time/space continuum in the here and now.
God sees the end from the beginning (Isaiah 46:10), and has a complete understanding of what is good for us, even if it doesn't make sense to us at the time (Isaiah 55:8-9).  Given this reality about the knowledge (omniscience) and kindness (omni-benevolence) of God, we are called to pray as Jesus taught, expecting God to answer us (Matthew 7:7-11). There is plenty of  sufficient evidence for God's existence and righteous nature; it's our job to trust God on the basis of this evidence, even when the answer to our prayer isn't what we were hoping for (Proverbs 3:5-6, Hebrews 10:23)
A Closing Illustration to Parents
I am sure many of us who are parents have had the experience of having to say "no" (or remain silent) to requests made by our children, especially when we see their "happiness in jeopardy" and we desperately want to make them happy, even if it is in the short-term. At the same time, some of us, at that time saw and knew the danger of saying "yes" to that request. For those of us who have been there, and a lesson for those of us yet to be there, there is an understanding in the importance of patience in a particular situation or the jeopardy of their request.  All of us can say that we have been in our kids' shoes and know the long term benefits and risks of a particular situation, and exercising our God given parental wisdom, we can see the end from the beginning. In those situations, our kids needed to trust our wisdom even if they couldn't understand our response at the time. We can be confident that they would someday understand why we say "no."  Are we relating here?
Well in a similar way, we need to be patient in whatever answer we get from God, knowing we will eventually understand why He responded the way He did and does. He either responds, yes, no, or not yet. He knows better than we do, and we will understand it by and by.
Notes
[1] Sometimes we pray asking God with the wrong motives. The Bible tells us, "When you ask, you do not receive, because you ask with wrong motives, that you may spend what you get on your pleasures" (James 4:3). If we're simply asking God for stuff—as if he were some kind of supernatural vending machine—we might need to check our motives. Prayer is about so much more than simply getting stuff, anyway. It's about giving God our adoration and thanking His for His goodness.